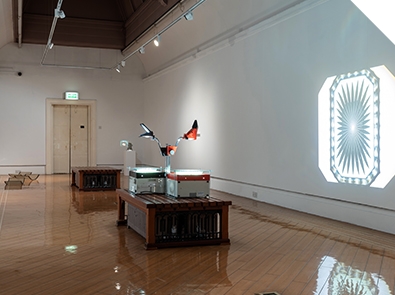 Saturday, 29 September, 2018 to Saturday, 27 October, 2018
Warrington Museum & Art Gallery
Please note this exhibition is only open during selected times: Wednesday - Saturday, 12noon - 4pm
Hannah Leighton-Boyce's works range from site-specific and ephemeral actions, to drawing, sound and installation. Her working methods combine material and process-led exploration with present day and archival research. Through these she explores place, object and body relations through themes of surface and erasure, embodiment and connectivity.
For her solo exhibition Dreaming of Dead Fish at Warrington Museum & Art Gallery, Leighton-Boyce has developed a series of newly commissioned works using un-accessioned items in the museum collection alongside glass, soot, slide film and projection.
This new body of work has been inspired by items in the museum's ephemera collection and 'The Invisible Girl', a Victorian object of curiosity on display in the Warrington Town Hall 1840 exhibition, within which a diminutive figure was either suspended in mid air in a globe or represented through a disembodied voice.
Visibility, separation, and embodiment have fed into Leighton-Boyce's research and studio practice. The relationship between the works and their environment, the materials and processes chosen capture senses of longing and touch, proximity and distance; acting like a series of extended moments and pauses, they attest to the fragility of experience.
Accompanying the exhibition is a newly commission essay by Dr. Craig Staff responding to the works and conversations with the artist.
Image: Hannah Leighton-Boyce, 'Intent on something yet undone' (Studio view of work in progress)  2018
Venue

Warrington Museum & Art Gallery

Opening Hours:

Open: Mon-Fri 10am-4:30pm, Sat 10am-4pm, last admission 15min before closing. Closed Sundays

---