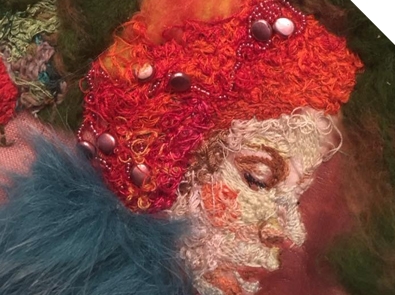 Saturday, 20 January, 2018 to Saturday, 12 May, 2018
Warrington Museum & Art Gallery
This display curated by collections staff at Warrington Musuem & Art Gallery focuses on the Women's Suffrage movement and celebrates some of the key women in Warrington who have 'broken the mould'.
In Victorian society the general view was that a woman's place was in the home. Most women did not enter further education or a profession, and women were unable to vote or to serve on any local government body. Many people thought that politics was beyond their understanding. However, from the late 18th century, some people advocated rights for women as citizens equal to that of men. Women played a part alongside men in general agitation for political reform in the early 19th century.
The display also features new work by members of art collective WomanStanley, including a large tapestry made by lead artists Sophie New and Emily Calland, with contributions from Michelle Price, Alicia Foy, Angela New and Vilma Gillat. Also featured are a Pussy Roit inspired balaclava and baseball bat by Roxy Ball and a film by Abigail Henry. 
Image: This Woman's Work (detail)
Venue

Warrington Museum & Art Gallery

Opening Hours:

Open: Mon-Fri 10am-4:30pm, Sat 10am-4pm, last admission 15min before closing. Closed Sundays

---