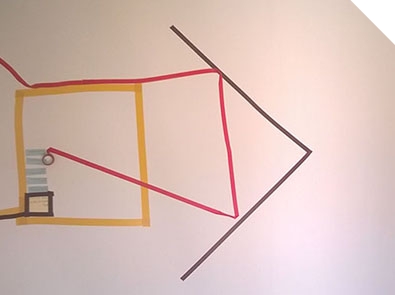 Friday, 2 October, 2015 to Saturday, 31 October, 2015
Open: Mon-Wed 10am-9pm, Thurs-Fri 10am-5pm, Sat 10am-2pm
Curated by EAST STREET ARTS
For the Leeds Pavilion, East Street Arts have invited three Leeds artists to be in residence for the duration of the festival. The artists will respond to the idea of 'the local', exploring the urban and the position of the festival itself in the city of Warrington.
The artists Lydia Catterall, Josh Gibbs and Bess Martin, will bring a fresh and exciting new perspective to the concept of a Leeds Pavilion and the artistic challenges of creating work in response to a new place.
Josh Gibbs' practice is rooted in the use of found building and decorating materials which have been in some way discarded, whether working them in a 2D or 3D format, he investigates their use in relation to their past, present and future and examines the interweaving conceptual realms their being is embedded in – construction, deconstruction, reconstruction and nature.
Lydia Catterall is an artist, collaborator and project coordinator for East Street Arts. She is interested in mapping existing places, situations and relationships whilst leaving room to imagine the alternative. Her work is heavily influenced by research and conversations concerning active citizenship, city planning, education and food.
Twitter & Instagram @lydiacatterall
Bess Martin's work strikes a balance between adult intelligence and childlike curiosity. Often site-specific and always inspired by its environment, her works explore trace making and participation with an air of playfulness. Her most recent project, Bear Hunting, involves hiding 500 Golden Bears for explorers to find and take home over many miles of countryside footpaths and public parks of Kirklees.
East Street Arts is a contemporary arts organisation working across the UK and EU. Our mission is to support artists to create work that brings lasting change to our everyday lives, through our activities programme, membership events and being a leading provider of temporary and permanent space to the creative community. East Street Arts' projects are focused on engaging with audiences to demystify and offer open experiences of contemporary art.   
Venue

Opening Hours:

Pyramid arts centre Open: Mon-Wed 9am-9pm, Thurs-Fri 9am-5pm, Sat 10am-2pm. Closed Sundays

---