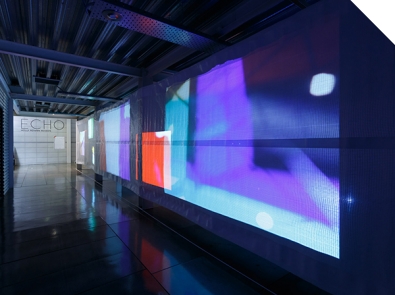 Friday, 29 September, 2017 to Saturday, 27 January, 2018
Echo is a new site-specific installation by Holly Rowan Hesson commissioned by Warrington Contemporary Arts Festival. The projection and sculptural work creates dialogues with materials, memory and the physical space. 
Holly Rowan Hesson's work explores the gap between and interplay within purely sensory feeling and experience and more literal, rational thought-based experience and an interest in the validity of uncertainty when approaching, experiencing and decoding the visual.
Through intuitive and process-led image making, she creates dialogues with material, sites and residual memories. This regularly starts from interrogations in specific man-made structures, buildings and physical spaces.
Exploring uncertainty and transience, Hesson's work is concerned with the actual fragility and transitory nature of what seems solid, weighty and permanent, both physically and also in the way things are perceived. 
Using the visual language and formal concerns of abstraction, her resulting sculptural and installation work is multi-layered, often with uncertain depth of focus. 
Image: Holly Rowan Hesson, Echo (partial view), 2017, projection (looped series of 140 stills for each of six projectors), scaffold sheet, steel structure, webbing, lighting gels, dimensions variable (image credit: Jules Lister)
Venue

Opening Hours:

Pyramid arts centre Open: Mon-Wed 9am-9pm, Thurs-Fri 9am-5pm, Sat 10am-2pm. Closed Sundays

---