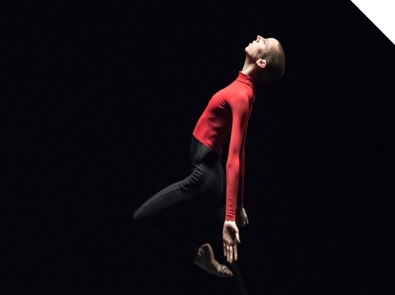 Julie Cunningham & Company
'An intimate, intriguing show from a choreographer who's definitely one to watch'
Lyndsey Winship, Evening Standard
Set to the poetry of spoken word artist and rapper Kate Tempest, To Be Me explores the themes of gender, identity and the changing body. Based on the Greek myth of Tiresias – the blind prophet, born a man and transformed into a woman by the gods –Tempest's verse becomes the accompaniment to a striking and uncompromising choreographic work exemplifying the extraordinary technical ability of Cunningham and the dancers.
In a new solo, m/e, Julie Cunningham is in search of a new kind of desired and desiring female body. Here, Cunningham draws on The Lesbian Body, the radical 1973 novel by Monique Wittig. Following Wittig's exhortation, Cunningham works "to recite one's own body, to recite the body of the other" entirely outside of the masculine gaze.
Born in Liverpool and trained at the Rambert School, Julie Cunningham is an award-winning performer who spent many years working with Merce Cunningham in New York before returning to Britain to join the Michael Clark Company. In September 2016, Cunningham established their own company with the aim of finding new movement vocabularies, addressing questions of gender identity and challenging gender roles.
Julie Cunningham is a New Wave Associate at Sadler's Wells and an Associate Artist at Dance East, and Julie Cunningham & Company is an Associate Company of Rambert.
Not suitable for under 14s
Venue

Opening Hours:

Pyramid arts centre Open: Mon-Wed 9am-9pm, Thurs-Fri 9am-5pm, Sat 10am-2pm. Closed Sundays

---