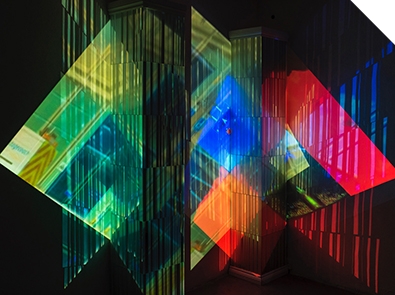 Saturday, 7 July, 2018 to Friday, 31 August, 2018
Golden Square shopping centre
Warrington Contemporary Arts Festival has teamed up with contemporary artist Gillian Hobson and Golden Square shopping centre to create a unique and personal piece celebrating the town of Warrington.
Your History of the Future will be displayed in an empty unit in Golden Square shopping centre, but first, organisers are calling on members of the public to get involved with the project by nominating some of their favourite places across town. By exploring key locations across the town's 24 boroughs, Gillian will produce a new film that explores all of these different neighbourhoods to reveal their similarities, differences and shared histories. Each area or landmark will be reimagined to take on a completely new identity in the form of a vibrant kaleidoscope of colour, shape and pattern. As a digital film that unfolds over time, audiences can explore the overlaps of different places in a moving masterpiece that celebrates the collective visual identity of Warrington as Cheshire's largest town.
People's relationships with their surroundings is a central theme to Gillian's vision, so asking members of the community to get in touch with their favourite locations or landmarks is a key part of the process. "Our experience of environment informs us, but can also inspire us to envision fresh ways to appreciate, experience and imagine. I'm delighted to be working with WCAF and looking forward to discovering more about this important area and its residents."
Please use the link below to nominate your favourite places in Warrington.
Venue

Golden Square shopping centre

Opening Hours:

Mon-Weds, Fri: 9:30-17:30; Thurs:9:30-20:00; Sat: 9:00-18:00; Sundays and Bank Holidays: 11:00-17:00

---