30 Artists. 30 days. 6 Strands. 5 Layers per Strand.
Welcome to the RelayerCake Open. Over the next 30 days, you'll be called on to enhance an evolving image and share it with the public. When your name is called, you'll have a day to use whatever tools you favour to contribute a layer to a Photoshop document - whether that's adding messages, chopping up artwork, painting anew or refining what's there already - and leave your mark on this open project.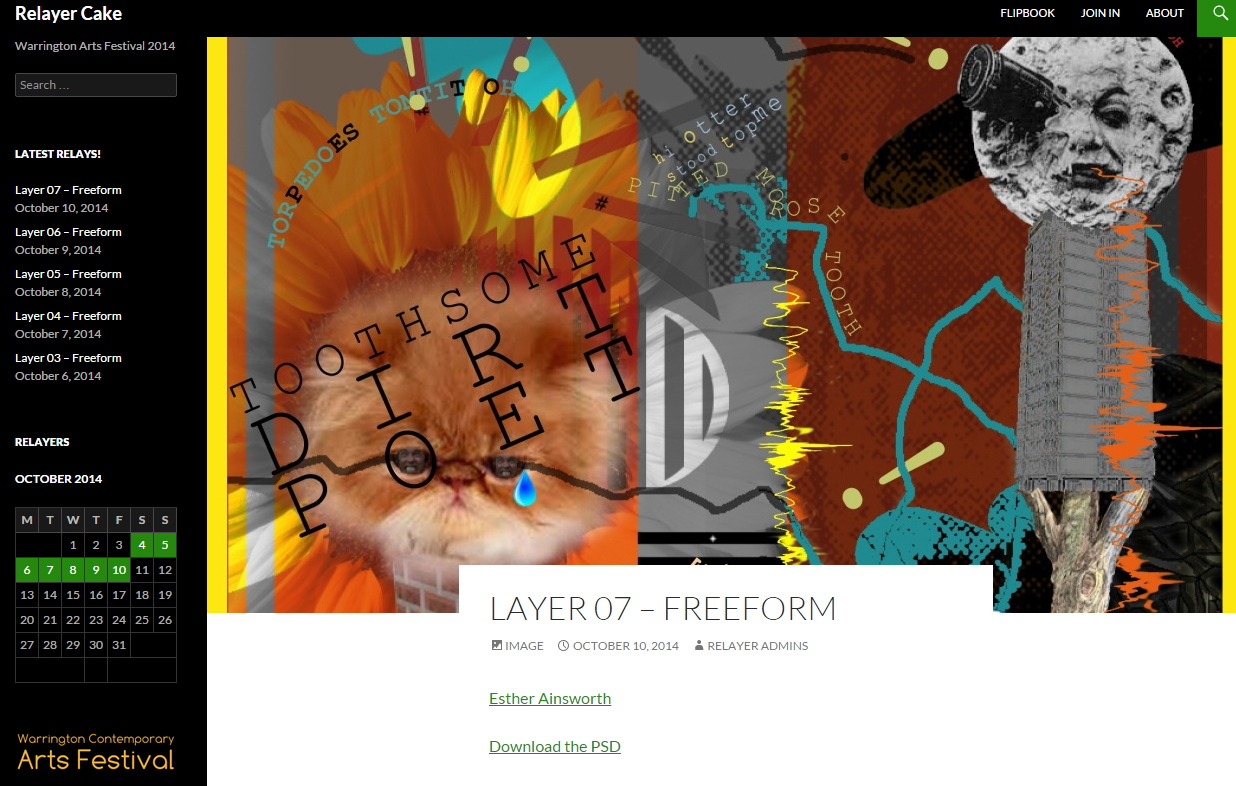 You'll be given a private URL to download your starting file. After adding a layer, you'll send your updated Photoshop file to us, and we'll put it up on the website for release that day and send your Photoshop file on to the next recipient.
The Photoshop document will have multiple layers in it. The bottommost layer shows the border for our print run - don't put anything in this area, or change this layer. All other layers show the artwork's evolution from earlier collaborators.
The image will be flattened for use on the website and when printed. We will make your Photoshop document available for general re-use and remixing under a Creative Commons Attribution-ShareAlike 4.0 International license - this makes it easy for us to share the files with others, permit them to remix it, and use it commercially - with attribution. This forms the basis on which we are publishing these files, so please comply with the requirements and familiarise yourself with license. Do not introduce material you do not have the copyright for, or which you are not prepared to release into the public domain.
What can you do with your layer?
Write a political screed
Enhance the existing work
Draw something thematically resonant
Put the world to rights with stick figures
Subtle 'adjustments'
Collage photographs into the image
Re-order existing layers
Use that speech bubble plugin, finally!
Fight for your rights
How do I download my file to work on?
You will be given a URL from which you will be able to download a zipped Photoshop file.
How do I work on my file?
After unpacking the zip, you'll have a .PSD document. Open it either in Photoshop or a compatible programme that can also save Photoshop files. You can import assets or work from other applications if you wish, work natively in Photoshop, or combine both approaches - it's up to you and what you're most comfortable and effective with.
Can I use other applications?
As long as they open Photoshop layered .PSD documents, preserve those layers, and save a layered Photoshop .PSD, then you can use any other compatible editor.
Suitable editing programmes on other platforms include:
Paint.NET, Free, Windows
Pixelmator, £21, OSX, Free 30-day trial
The GIMP, Free, Linux/Ubuntu, Windows, OSX (Please contact us if you are planning to use The GIMP)
The image is layered 32-bit RGB data.
You can create assets in other packages and import them into the Photoshop composition, as well. Make best use of the tools you're familiar with!
What kind of edits can I make?
Whatever you want - but be considerate of the work before you!
You could work in-between layers, or chop up layers and rearrange them.
You could add in text or messages
You could introduce photographs, or images for later participants to work on
You could annotate existing work with speech bubbles or call-outs
You could make minor changes the image or layers, such as colour shifts
You could create entirely new sections of an image
You could move and recontextualise other layers - push a logo onto a wall, or turn a shape into a shadow
You could show off your mad Photoshop skillz
How do I save my file?
Before saving your file: think about the next recipient. How would you like to receive a layered Photoshop document to work on? A few pointers to help make the file easy for the next person to work with:
We have a baseline Photoshop version of CS4 - if you are using very recent features, it might be a good idea to rasterise or flatten layers when saving.
Try to organise your work into a single layer group, if possible.
If you use fonts, ensure you rasterise the text before saving.
Consider others using your file - don't create huge numbers of unnecessary layers!
The document is 32-bit RGB colour, with the dimensions 877 ✕ 620 (including the border). Do not resize, crop, change the colour space, or flatten other people's layers. Feel free to hide, duplicate and edit other people's layers.
Save your file as a Photoshop document, and ensure you pick 'maximise compatibility'. Use the same filename as you received the file as.
Compress the .psd file as a .zip before uploading. Find out more about compressing a file on OSX,compressing a file on Windows, or creating a Zip file on Ubuntu. Please do not put a password on your zip file!
How do I upload my file when I've finished?
When you have a zip archive of your final Photoshop document, use an uploading service to send your file todave@tandot.co.uk. free.mailbigfile.com will let you upload files up to several GB, without registration. We recommend using this service to send files around.
Please avoid making a multiple-gigabyte PSD image. If it becomes too large to easily send on to others, we reserve the right to flatten and merge layers before sending the document on. If you're working with hundreds of layers, it might be worth rationalising and merging some.
If you have a short artist or organisation statement, please send it by email to dave@tandot.co.uk and it will be included on your image's page.
What if I miss my slot?
Due to the time-based schedule of this project, if a slot is missed, there will be no way to be involved in the chain. The last piece of work to be submitted (by the artist before you) will be sent on to the next artist, effectively forfeiting your place in the chain. We're sorry we can't handle this any differently, but we need to preserve the continuity of the chain and schedule.
If you a running a little late, just let us know (mail dave@tandot.co.uk we may well be able to accommodate).
What if I have problems?
Mail dave@tandot.co.uk or send a message to @davemee on Twitter.
What's the daily schedule?
When Your Day comes, you'll need to follow this routine.
7am: Image is available - you will download the Photoshop PSD as a .zip file from a provided address.
9am: Previous day's image goes public
by 4am you have 21 hours of the day and night to work on your image. There is nothing stopping you preparing assets in advance, but these 21 hours are your window to integrate and complete work you may want to do on the image.
The deadline to submit your file is 5am and you will upload your image (eg, using free.mailbigfile.com or similar) and send the link todave@tandot.co.uk.  You can submit it whenever it's ready within the 21 hours you have allocated to finish and upload the file.
By 6am your image will be uploaded to the website and prepared for the next recipient
9am: Your image goes public
Everyone participating will be following this same schedule at least once in the programme.
How can you get involved?
If you'd like to take part in Relayercake then please contact us info@warringtonartsfestival.co.uk - you'll be given a date and a URl link to download the file.
What's the website, again?